If you do not catch up with the Internet, the stock market, gold, real estate riches and other opportunities, this wave of wealth must not be missed. Underwear is essential for women's personal clothing, 600 million women in China, 200 million people belong to the age group of people wearing bra, the annual spending power of more than 600 million sets, the retail price of 200 yuan or more high-grade bra accounted for market sales 10%, accounting for about 30% of sales, market capacity reached 50 billion yuan, brand underwear to join the store with annual sales of about 150 billion yuan. Experts predict that the next five years, China's underwear market will have 500 billion yuan in sales, its annual growth rate will reach 20%. Who can grasp this opportunity, who can let you go to the road to wealth.
This is an elegant decoration, unique love yarn baby brand underwear shop in this area of ​​45 square meters of shops, almost all the necessary female consumers to find underwear supplies: underwear (bras, underwear), body underwear (plastic Pants, corsets, girdles, etc.), fashion underwear (sleeping sling, home service, etc.) and other three categories of underwear products. The owner Lin told reporters that this love yarn brand underwear shop has been operating a multi-year investment 60,000 yuan, half a year to make money back, and now already profitable. When a reporter asked about the secret of underwear shop to make money, Ms. Lin frankly, the quality and price are very important. Before she had opened a low-grade underwear shop, did not take long to collapse, and she finally understood, to do big brands. Take Love yarn underwear brand, for example, not only good quality, and the price is very reasonable, customers generally feel comfortable wearing the body, only customers feel comfortable, the fair price will buy, you can make money. After all, underwear is personal clothing, is directly related to the health of consumers, if the quality is not the pass, who once an allergic reaction, they will never trust the brand. There Love yarn advertising support, the terminal franchisee kind of tree under the shade of a good ride, save a lot of promotion fee. Therefore, many customers are attracted, because the quality is really good and has become repeat customers, to be honest, to join the big brand more peace of mind, and make money easier.
It is understood that "Love yarn baby underwear" will be romantic, elegant and stylish blend underwear brand underwear design, soft and comfortable fabric upscale, not only has the effect of self-cultivation, but also conservation of breast disease prevention, so since the listing by women Friends of all ages. In the just-concluded by the Chinese brand clothing network hosted the first fall of 2011 the most concerned about the selection of network activities announced the autumn, "Love yarn baby" underwear underwear class by the top three awards. Up to now, Love yarn brand underwear in China has 13 provincial-level dealers, 19 municipal distributors, cultivating more than 800 outstanding body tutors.
Joining love yarn baby adjustable underwear has seven major advantages, one strong product development system support, such as the regular introduction of style trendy, unique and innovative design of the product; Second, the scientific system of market operations support; Third, logistics and distribution support, fast and easy ; Fourth, support for sales service system, perennial training and guidance; Fifth, regional franchisees to provide regional market protection and support to ensure its independent rights in the region; Sixth, policy support, including returns; Advertising media promotion promotion support. It is with these seven guarantees, only Love yarn Baby brand franchisee quickly developed from the original 68 to now 320, so that they embarked on the road to entrepreneurship, and opened the wealth of life.
Fluted candle is the candle with stripe , Usually use for home lighting, house decoration, religious pray, etc.
The popular size: 75gram, 70gram, 65gram, 63gram, 45gram, 30gram,
Main markets: South africa, Angola, Tanzania, Zimbabwi. Malawi,etc.
Usually pack in polybag, 6pieces/pack, see below pictures.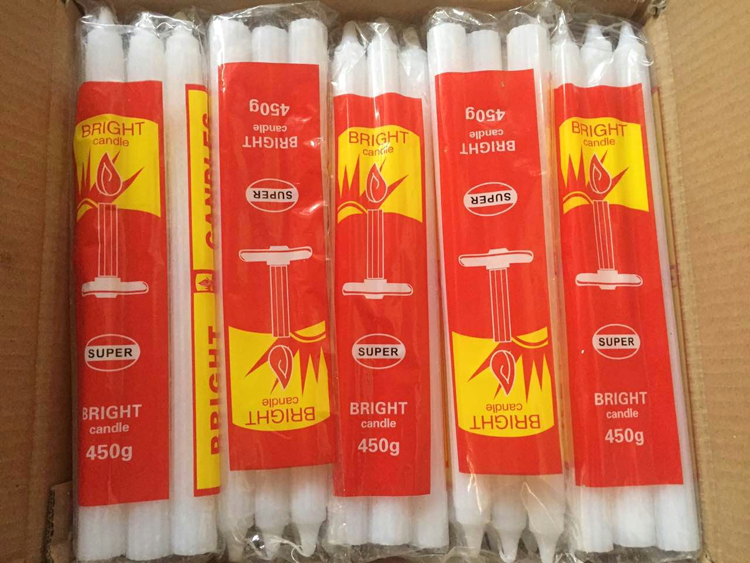 Fluted Candles,White Fluted Candles,Scented Fluted Candle,Colored Fluted Candles
Hebei Seawell Import and Export Co.,Ltd , http://www.hebeiseawell.com