Beautiful is God's gift, beauty is acquired the practice! Elegant, intellectual, from the heart to the body to practice, and retro and style is the result of the esthetic and life after the precipitation of the product of years! "Yu love" from the well-known television presenter "Chen Luyu" people. Its meaning: comfortable, happy, with love .... From her, we can read - intellectual, elegant, retro, style. These characteristics will be throughout the "love" the soul of the entire brand!
Yu Lu brand - love story
Chen Luyu, Phoenix TV anchor, host.
According to Star Cat CEO Li Yucheng introduction, fashion design inspiration is based on the creative design blueprint for the show, showing the wisdom of mature women, and guide the modern city of women, the pursuit of worthy of the high quality dress style and lifestyle.
Designed to elegant and stylish European style as the background, advocating elegant, comfortable life concept of wisdom, through international trends and the trend of investigation and design, to show the power of modern women's elegant wisdom. With innovative and surprising design techniques to create a diversified product line, creating a better life fragment. For mature women in the work life to bring confidence and elegance, calm without losing the vitality of the noble atmosphere. And is committed to leading them to become the focus of fashion and respect.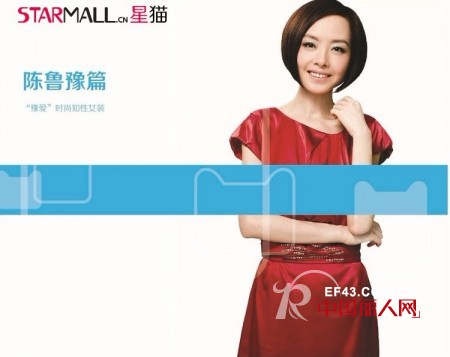 Dress code:
Yu love uphold the classic, elegant, simple style, self-cultivation profile of the slim, unique and innovative details of the deal. Unique texture imported fabric, no doubt everywhere are full of "Yu love" high-quality!
WEEKEND Series:
For loving high-end leisure series, the use of high-quality comfortable fabrics, clever atmosphere of cutting, elegant and taste coexist, leisure but not hippie, intellectual but not rigid, elegant but no sense of distance ...
Target customers:
25-40-year-old middle-class intellectual romantic career women, successful, confident, gentle and happy.
With its own dress rules and good fashion taste of the fashionable women, intellectual, professional, at the same time full of romantic white-collar beauty, the higher the requirements of the delicate details.
Star cat star cats bring you the most trendy walk.
Star Cat Star Brand Management Co., Ltd., is China's first star brand management and operation company, tailor-made for the stars own-brand, sales and service coverage of the country.
CEO Li Yucheng.
Star cat network, China's first star brand network.
Star cat network http:// is the first star brand network in China that integrates many famous star products like Han Geng, Chen Xiaochun, Ying Cai, Guan Lin , and Chen Lu Yu. It is the largest star in China operated by Star Cat Star Brand Management Co., Ltd. Brand and star design product development and management platform. Also involved in the development and sale of exclusive celebrity star and derivative products. Categories related to clothing, home textiles, shoes, accessories and so on. CEO Li Yucheng positioning the target user for the majority of favorite stars, the pursuit of fashion user groups.
The current operating brands are Chen Luyu's "Yu love" fashion intellectual high-end women , Chen Xiaochun should adopt children's "J & C" fashion casual men and women's clothing, Guan Lin's textile, Han Geng's brand "Han Geng" and so on. All are registered trademarks of celebrities, which act as spokespersons.
Baby Boots are winter warm styles footwear, most baby boots we producing are made by genuine cow leather, suede leather and plush. All of them with excellent quality and beautiful appearance, as well as UGG boots.
The usual sizes we create for baby boots are 0 to 24 months in soft leather or cloth sole, and for larger sizes of kids boots, we use rubber sole.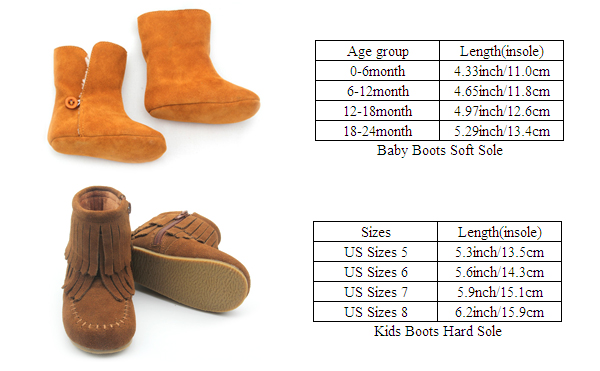 Our factory provides free poly bags for each pairs of baby boots as default packing, customized cloth bags or boxes of your own designs are also available.
We use common export cartons as out packing, which could fill about 100 pairs of baby boots, volume weight in 22kgs.

All materials we use for baby boots and kids boots have past the test of US customs, follow the requirement of US CPSIA policy, Pb element less than 90ppm, friendly to environment and safe to babies.

During the cold winter season, baby boots from Baby Happy will be here to make you warmer.
*Related Products:kids boots,boys boots,girls boots,toddler boots.
Baby Boots
Baby Leather Boots, Baby Boots, Winter Baby Boots, Warm Boots Baby, Baby Boots Shoes, Baby Boots Moccasins
Shenzhen Baby Happy Industrial Co.,LTD , https://www.babyshoes.cc